Foursquare City Guide
A Useful and Interesting City Guide App
The world has become a global village with the advent and easy accessibility of the internet. Internet has brought a revolution the world over with its ability to connect people with each other regardless of the physical boundaries that separate them. It has also made people become open to newer cultures. People are now interested in visiting far off locations in order to witness for themselves what they have read and seen about them over the internet. The internet has also helped provide people the courage to check out new locations as with the internet, there is no fear of getting lost or of not maximizing the experience. City Guide apps have facilitated this change in culture greatly by offering a nice introduction of what any given city is all about and what can be done once someone comes to visit short-term or long-term. Foursquare City guide is one such city guide app that tries to make the experience of visiting different cities simple and easy.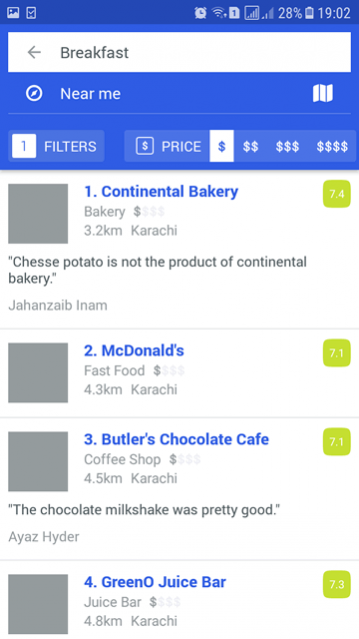 The Foursquare app has a beautiful design and it offers everything on a platter for you. The app's homepage is the Search function through which you can look for specific activities that can be done in the city. The app lists down six search options as starting points including breakfast, lunch, dinner, coffee & tea, nightlife and things to do. These are great places to start, as tapping on any of the options would take you to a list of suggested options. From places where you can get cheap breakfast to great locations that would provide an enriching taste which would be true to the city's origins, you could find out everything through these options. You can easily filter each option and see how it works out for you. You can rank the options based on their closeness to your current location with the distance filter while you can also rank them based on user rating as well. You can include or exclude options depending on how much they would cost you as well. This is great to get you started as if you are new to a city then this information would surely help you out.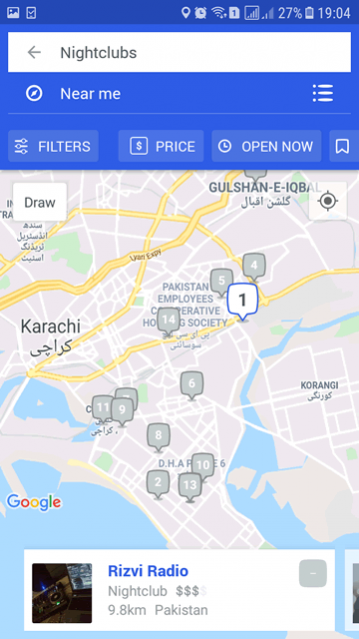 The app is not restricted to these six search options though. You can directly search for bars or music places as well directly through the search option. Whichever location would meet your searched word would appear on your screen. Tapping on the particular listing would show you the location's highlights, info, photos and user tips. The tips section is useful, as different visitors to the location who also use the foursquare city guide app would have provided their feedback on what is good and what is bad about the given location. You can track the location on the map as well in order to chart out a route if you want to visit.
The foursquare city guide app also offers the option of seeing all the listings on the map. In this manner, you can easily get an idea about how far all the locations from your current location are and how you can make a route that will help you touch most of the places at once. This is normally a fantastic idea if you want to explore as much as possible in the quickest time possible.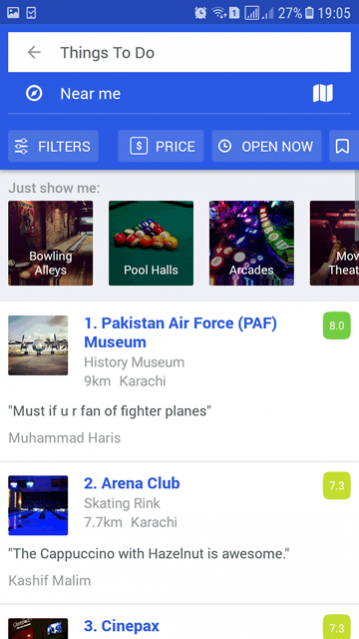 Apart from the main search feature, the app lets you customize your experience with the history, lists and me sections. You can sign up with the app in order to make a profile that would save all your favorite locations and your lists as well. You can make lists about anything you want with the most common lists usually containing locations you would want to visit while in the city. You can also explore lists made by other city guide app users to see what they suggest. This history section keeps a list of where you have been and the locations you have visited with a record of the number of times you have visited a particular location. This is great to trend where you spend most of your time and which places are your actual favorites.
Features:
Beautiful and user-friendly app design
Nice option of seeing a given list on the map
Fantastic details about each location
Nice filter options for a particular list of suggestions
Conclusion:
Foursquare City Guide is a blissful city guide app that can prove extremely useful if you are a frequent traveler and always want to explore every city you visit. With great filtering options and a nice database, this app will have you covered on your expeditions at all times!
---
Add a review
Tell us your experience with
Foursquare City Guide
RELATED PROGRAMS
Our Recommendations
---
---
---
---